SPERAS M4 Mini TYPE-C Flashlight 1320lm 652m Powered By 1 Pce 18350 Battery
SPERAS M4 Mini TYPE-C Flashlight 1320lm 652m Powered By 1 Pce 18350 Battery
Orders ship within 5 to 10 business days.
SPERAS M4 is a new release EDC flashlight, which utilizes advanced high-performance LED, emits bright light up to 1320 lumens, and reaches 652m (2130ft). It packs 7 different light modes, Turbo, High, Medium, Low, Strobe and SOS mode, with impressive runtimes (Up to 220 hrs. in Eco mode). With its user-friendly interface and memory function this is an ideal flashlight for daily use, camping etc.
Features:
Compact and powerful. Utilizes one innovative S50 led that emits 1320 lumens with a beam distance of 652m (2130ft).
High transmittance PMMA materials used to create a well-designed TIR lens for an optimal light beam.
USB-C charging with a smart power indicator system for optimal charge and power status indication.
High efficient circuit, flicker-free, and a max of 220 hrs. runtime in Eco mode.
Reverse polarity protection to avoid circuit damage when the battery is incorrectly installed.
Over charge/discharge protection to extend battery life.
Lock function to avoid unintended operation.
Aerospace 6061 Aluminum Alloy with Type III Hard-anodizing for a durable and anti-abrasive flashlight.
The review from 1LUMEN:https://1lumen.com/review/speras-m4/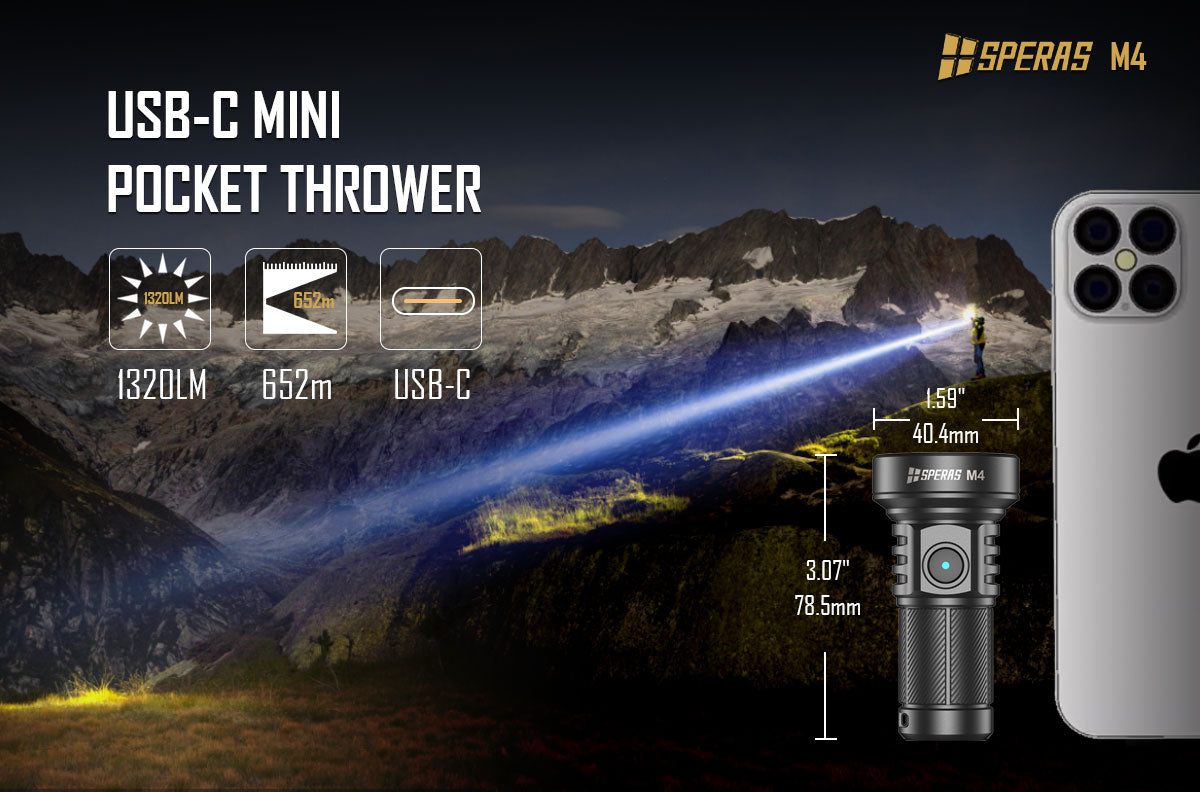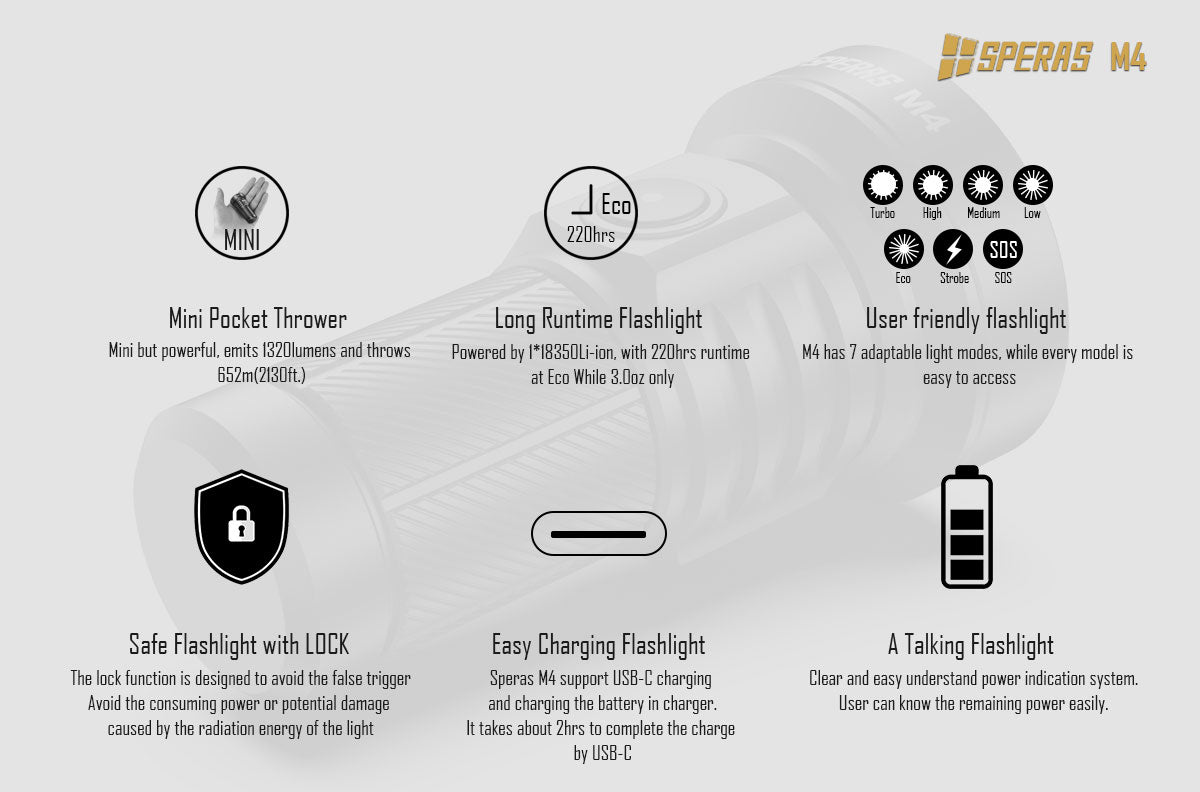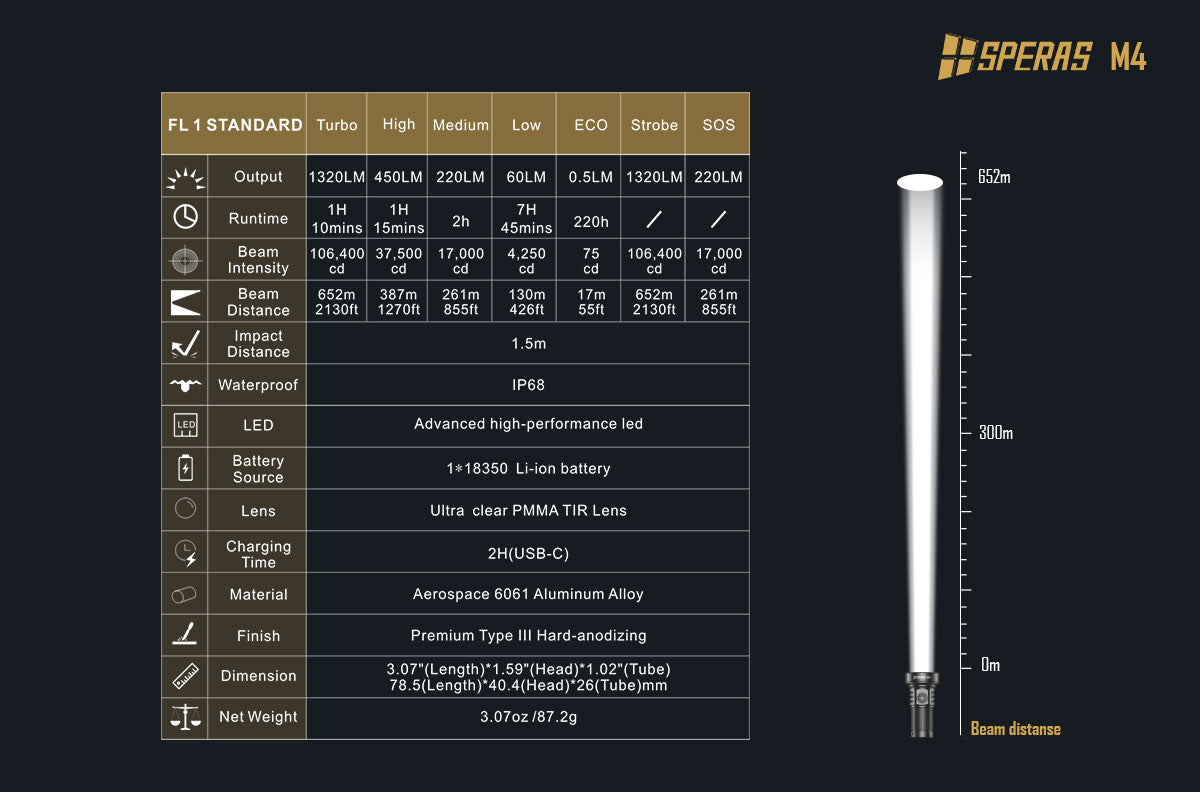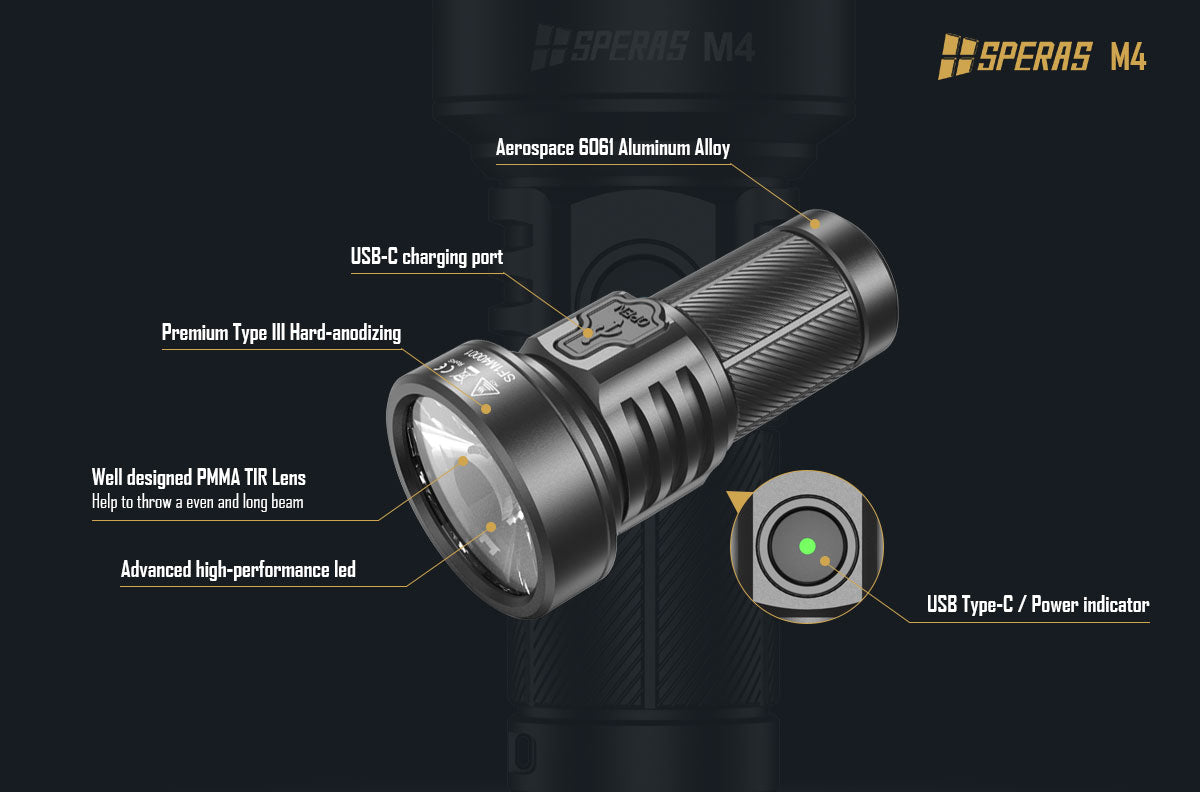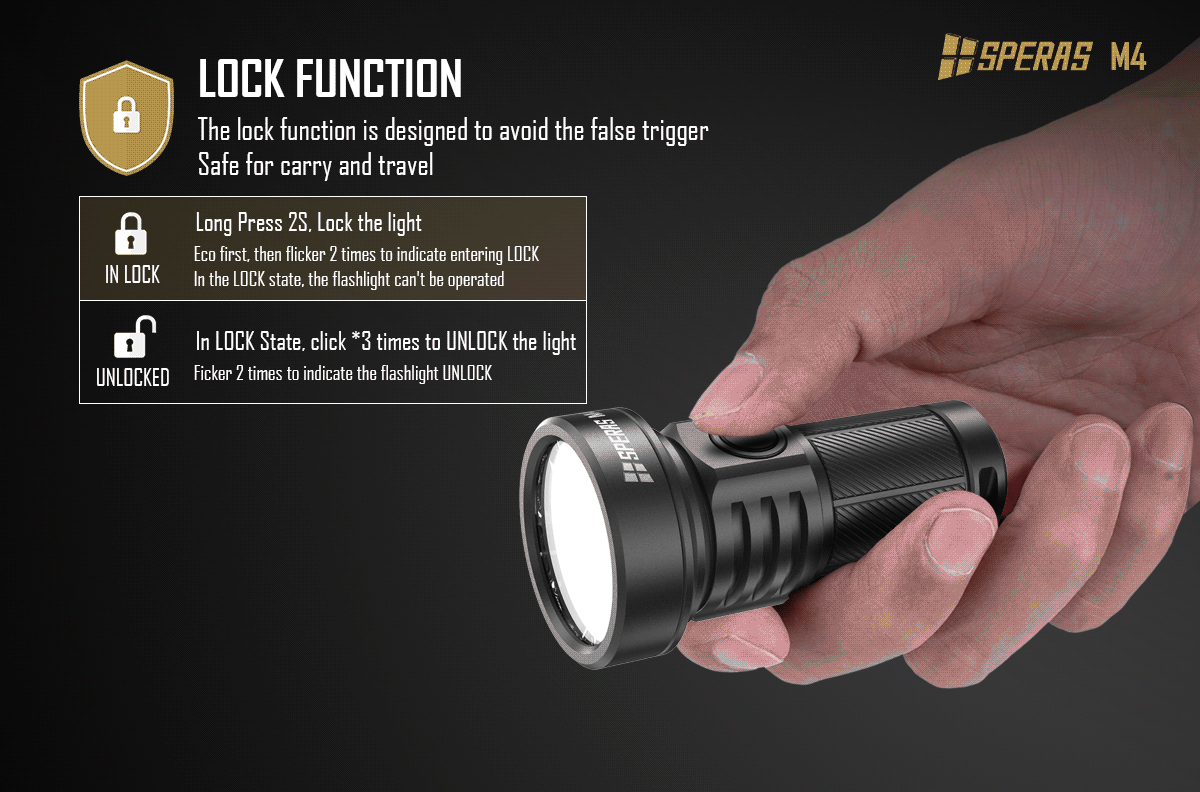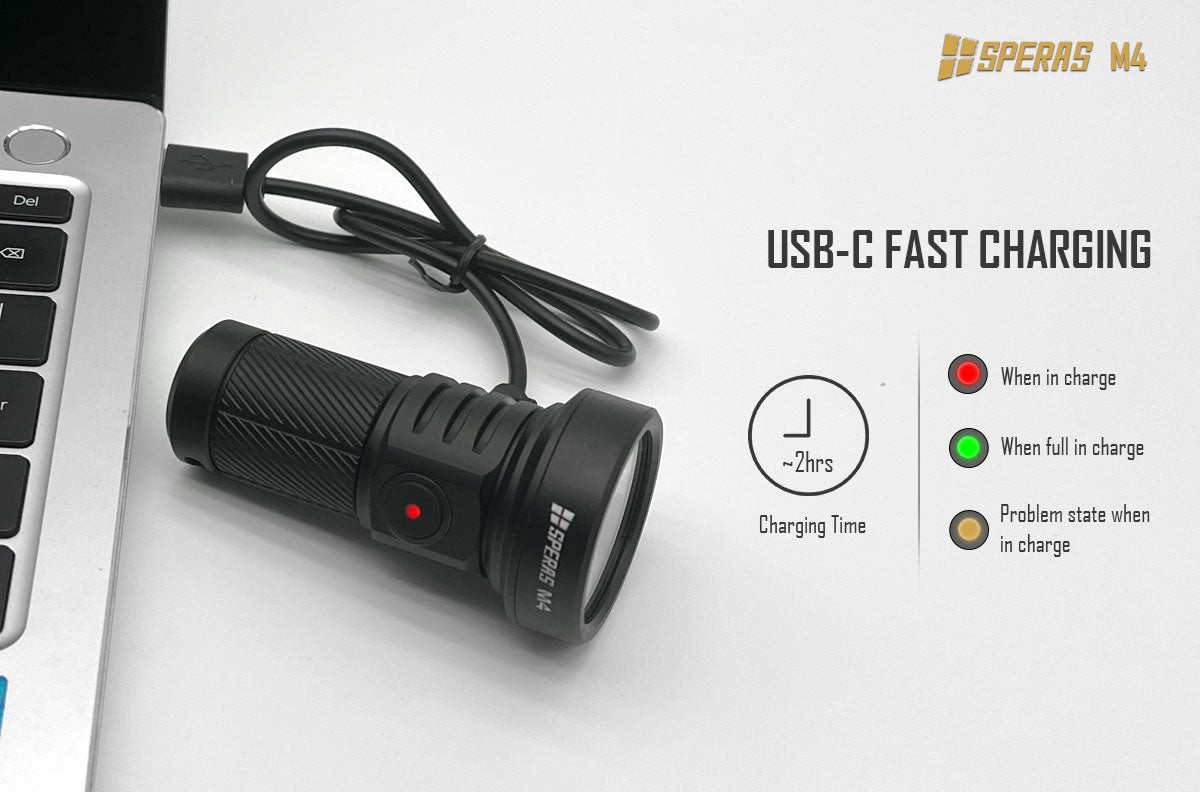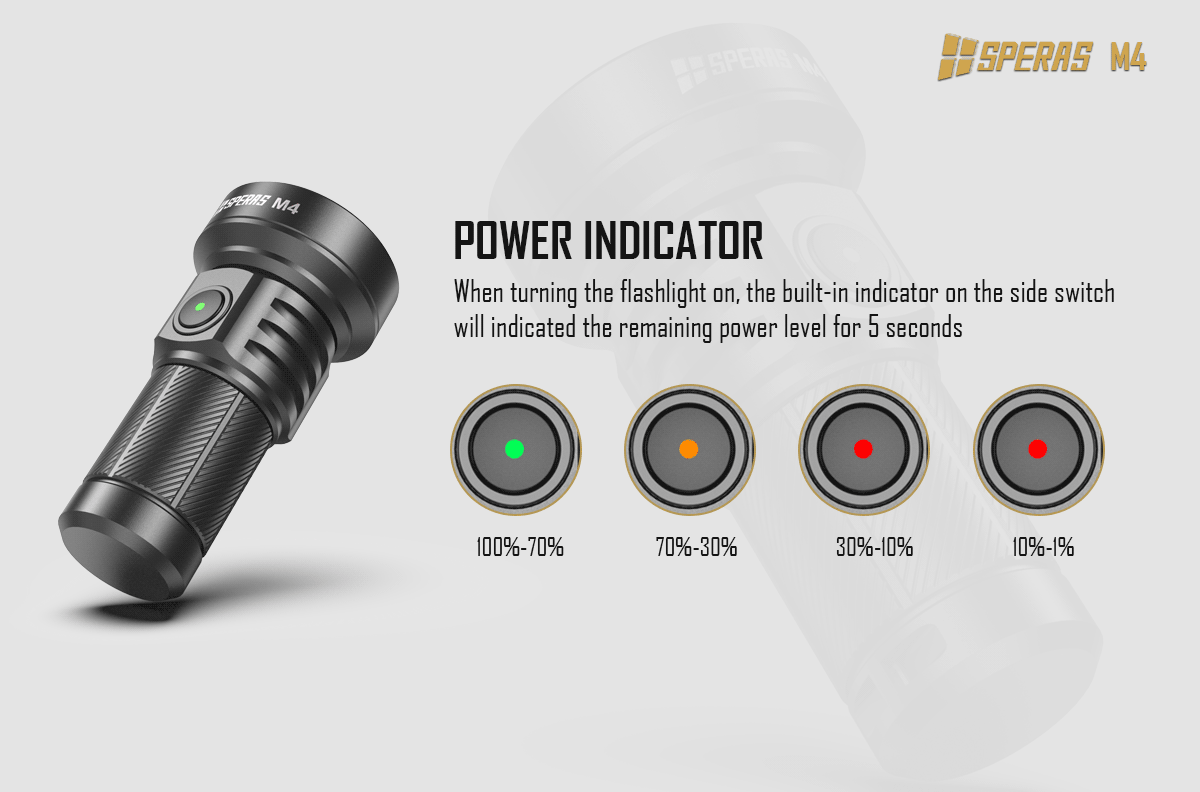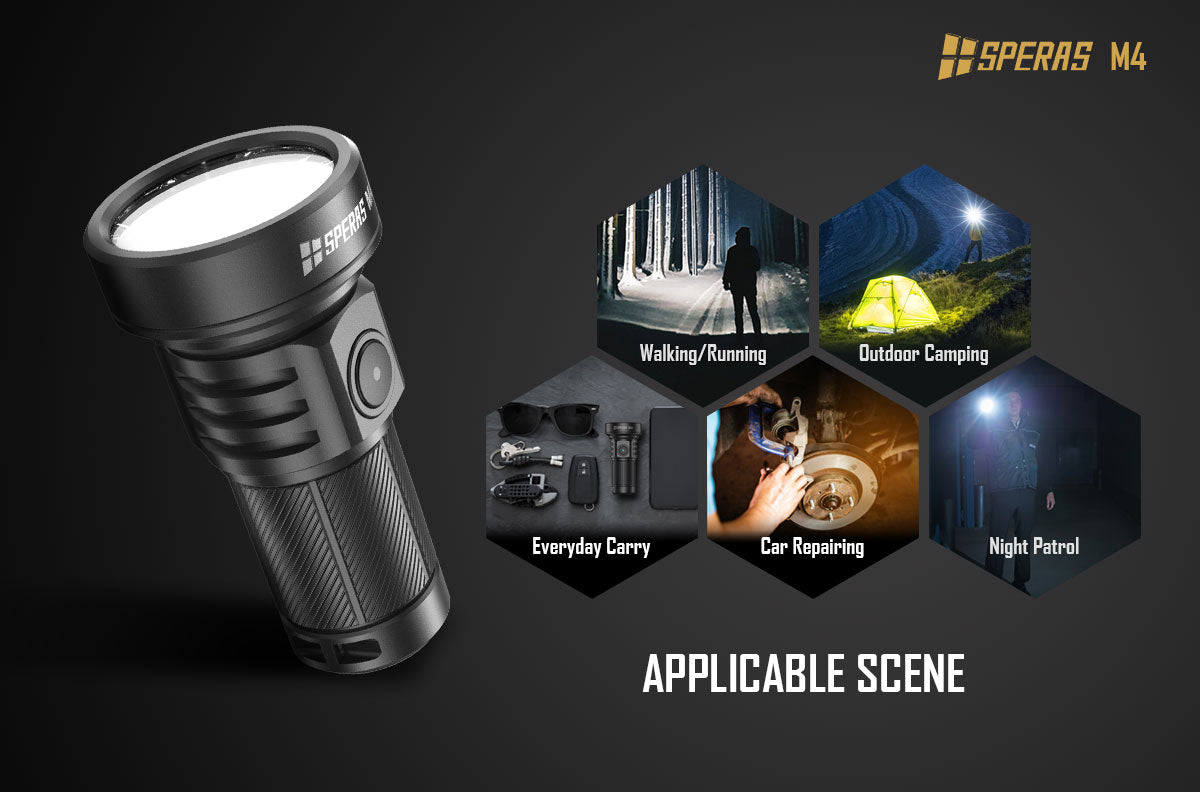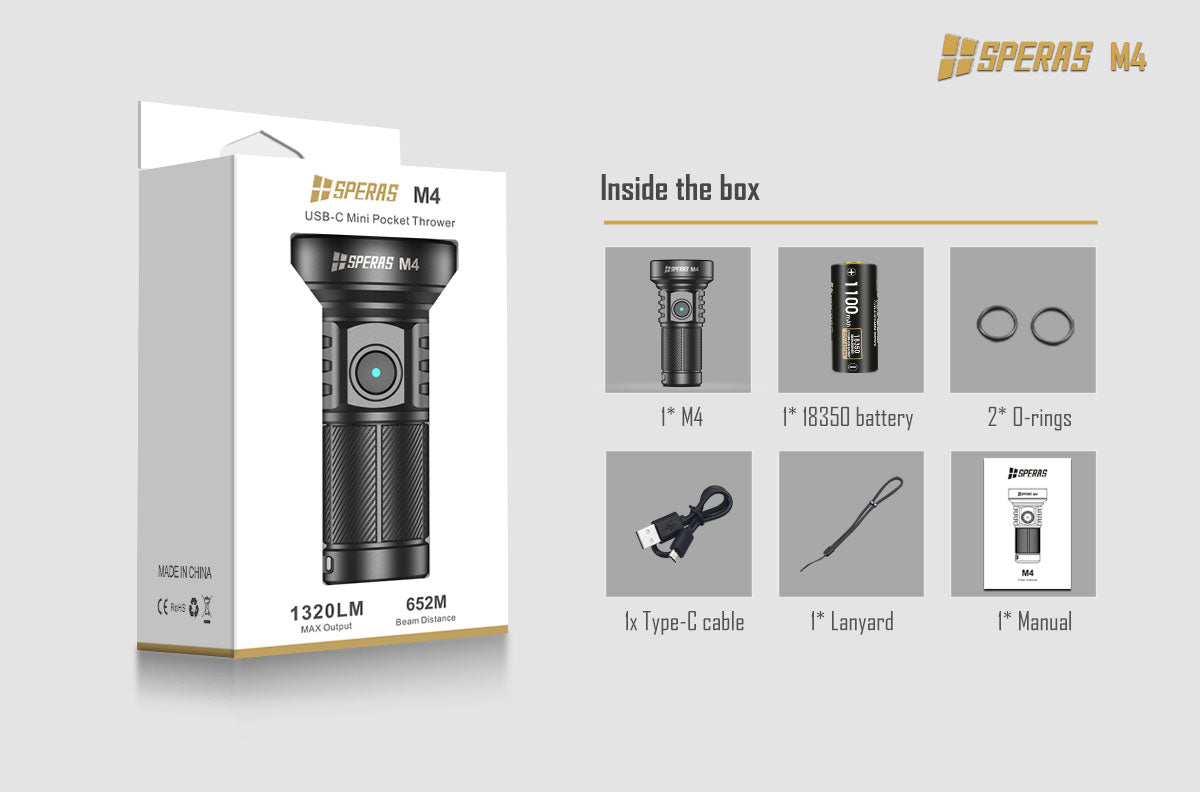 Not delivered yet!
Unfortunately the order is out of the Greek borders right now.
If I have any updates I will let you know.
Thanks for asking though!
P.S. If you can, push the order to unstuck and move!
Brilliant product at a reasonable price very happy
Awesome light!!
I own many flashlights, many customs. For its size and money this is a fantastic light. And the throw! Wow, it is hard to believe! Just buy one!
Fantastic torch
Great quality with a tonne of performance. I've recommended this light to other friends.
Powerful pocket thrower
The SPERAS M4 is a powerful pocket thrower. Build quality is excellent. Anodising is good. There are no sharp edges. Knurling on the tube provides good grip. There's a glass lens to protect the TIR optic. The charging port cover feels sturdy. I wish the tint wasn't so green but it performs well. The user interface is simple.
FL 1 STANDARD

Turbo

High

Medium

Low

ECO

Strobe

SOS

Output

1320LM

450LM

220LM

60LM

0.5LM

1320LM

220LM

Beam Distance

652m
  2130ft

387m
  1270ft

261m
  855ft

130m
  426ft

17m
  55ft

652m
  2130ft

261m
  855ft

Beam Intensity (cd)

      106,400

      37,500

      17,000

       4,250

             75

      106,400

      17,000

Running Time

1H10mins

1H15mins

2H

7H45mins

220H

/

/

LED

Advanced high-performance led

Lens

Ultra-clear PMMA TIR Lens

Battery Source

1*18350Li-ion battery

Charging Time

~2H(USB-C)

Impact Distance

1.5M

Waterproof

IP68

Material

Aerospace 6061 Aluminum Alloy

Finish

Premium Type III Hard-anodizing

Dimension

3.07"(Length)*1.59"(Head)*1.02"(Tube)
78.5(Length)*40.4(Head)*26(Tube)mm

Net Weight

3.07oz /87.2g